Volkswagen Tiguan: A Rare Gem in the Compact Crossover Class
Unless you've been living under a rock, you've no doubt noticed the proliferation of compact crossovers on the roads around Folsom and Elk Grove, CA. Everywhere you look, there seems to be a new compact crossover that's out on the interstates and highways. That's for good reason.
Compact crossovers offer two things consumers love: sport utility-like cargo space/room and car-like fuel efficiency. The question then becomes, "which compact crossover should I choose?" Well, we've got our favorite at Roseville Volkswagen, and it's most definitely the Tiguan.
What makes the Volkswagen Tiguan the best choice in compact crossovers?
For starters, it's big on interior space. In fact, the Tiguan offers some of the most interior room of any vehicle in its class. It also offers something you rarely find inside a compact crossover: third-row seating. Sure, there are a couple of competing models out there that offer a third-row seating option, but try actually fitting an actual adult human in that third row. It's not comfortable or pretty. The VW Tiguan's third row of seating can actually accommodate a normal-sized human being.
VW's compact crossover is also loaded up with all the interior options you could ever want. After all, you're going to be using it primarily for everyday transportation, so you want your ride to be as comfortable and pleasurable as possible.
Now is a great time to visit our Roseville, CA, dealership to test drive a new Tiguan. It's currently one of our best-selling models, so we work hard to make sure we always have a big selection in stock.
Contact us online if you'd like to learn more about some special purchase and lease offers we have on the Tiguan. We make purchasing or leasing a new VW model easy with our special offers at Roseville Volkswagen, located at 830 Automall Drive in Roseville, CA 95661.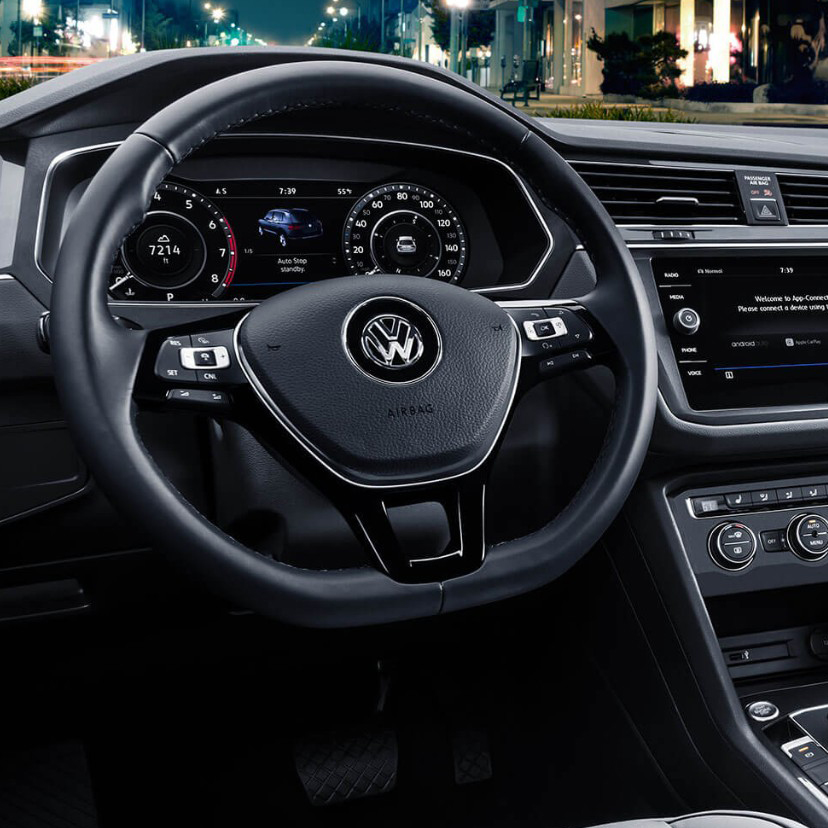 The All-New 2018 Volkswagen Tiguan
You have to hand it to Volkswagen. The previous-generation Tiguan, while a solid offering, just didn't hit the sweet spot with North American consumers. In response, VW completely redesigned the Tiguan for the 2018 model year and now have a bona-fide contender in the compact crossover market.
The 2018 Tiguan is bigger than the previous model, offers more cargo room, and even has a third-row seating option. It is available in four different trim levels: S, SE, SEL, and SEL Premium. All trims are available with the 4MOTION all-wheel drive system.
Tech is plentiful on the 2018 Tiguan, and that should make everyone happy. There's an available 12.3 digital instrument cluster that displays all the typical vehicle performance data in high resolution. There's also an 8-inch touchscreen display inside the 2018 Tiguan that offers Apple CarPlay and Android Auto functionality.
A comprehensive suite of available driver-assistance technology also makes the 2018 VW Tiguan a compelling value. Features like blind spot monitor, rear traffic alert, lane assist, and adaptive cruise control help keep you safe while driving in and around the Sacramento valley.
Read more.
Origins of the Volkswagen Tiguan
In 2009, the Tiguan became the first compact crossover ever released by Volkswagen. The vehicle featured unique styling along with a turbocharged engine under the hood. The Tiguan met with mixed success upon its debut and in 2011, Volkswagen made interior and exterior styling updates along with equipment enhancements to increase the vehicle's appeal.
The factory once again made styling changes to the Tiguan for the 2012 model year. Two years later, VW beefed up the technology features inside the car with the introduction of the Car-Net service. Despite years of enhancements, the Tiguan still struggled to see success in the compact crossover market.
That all changed with the introduction of the 2018 Tiguan. Volkswagen completely redesigned the vehicle and made it bigger to satisfy the demands of North American motorists. Exterior styling was also changed, and the compact crossover saw an immediate surge in sales.
Shop Volkswagen Models near Sacramento, CA
If you're looking for a great deal on a Volkswagen Tiguan, you'll find it at our Roseville, CA, VW dealership. From financing to purchasing/leasing, we'll make sure you drive off the lot in the Tiguan model you want and that you're thrilled with your price/monthly payment.
The first step in the process?
Schedule a test drive today so you can experience the Tiguan up close and in person. We'll have the exact model you want ready and waiting at our VW dealership, located at 830 Automall Drive in Roseville, CA.