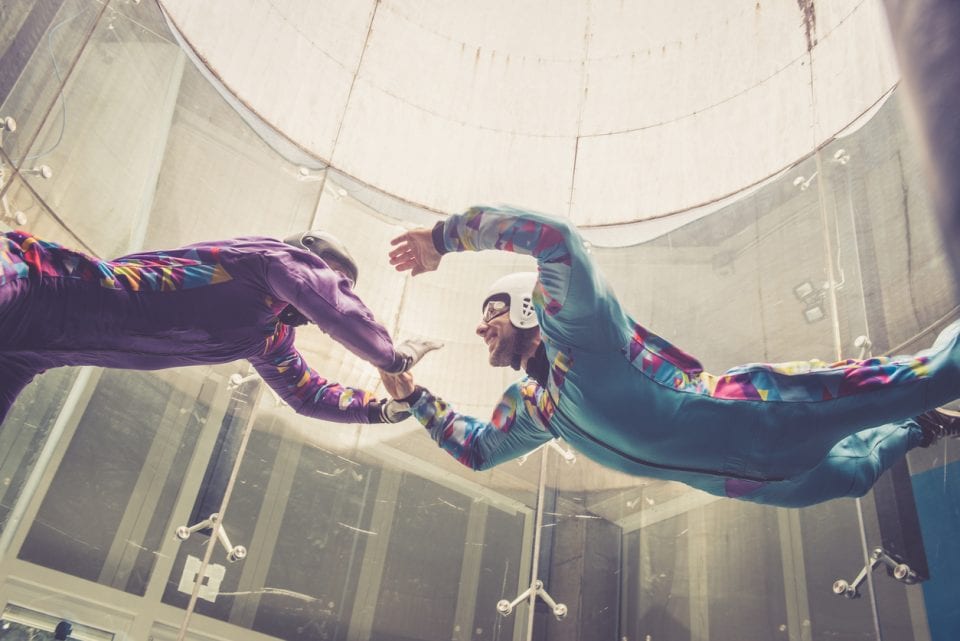 Have you ever wanted to experience the thrill of skydiving, but in a safer, more secure environment? If so, then it's time to take a visit to
iFly
in Roseville, CA. This state of the art indoor skydiving facility gives you the exact sensation of skydiving while only being a few feet from the floor!

How it Works
In simple terms, iFly utilizes airflow at such high forces that it mimics the weightlessness and freefall of an authentic skydiving experience. An iFly associate accompanies you inside the flight chamber to ensure your safety during your journey. The entire experience lasts about an hour and forty-five minutes and is the equivalent of 1.5 skydives.
More About Indoor Skydiving
iFly uses vertical wind tunnels in order to recreate the experience of skydiving. The tunnels have fans at the top that draw air through the flight chamber and then push it back down through the sides of the tunnel through Return Air Towers (RATs). The air is then routed through the bottom of the tunnel and back into the chamber through an inlet contractor. This inlet contractor reduces the space that the air can travel in which speeds up/compresses the air into a smooth column which gives you the ability to fly.
Skydivers use wind tunnels as a way to refine and hone their skills without the cost and expense of having to go up in a plane every single training session. There's even a new niche sport that has grown around the wind tunnel technology known as body flight.
If you fall in love with body flight, iFly offers training programs to help you improve your skills. You can even get involved in flight training nights and progress towards competing in local and national competitions.
What to Expect when you Arrive at iFly
Be sure to make your flight
reservation
and arrive on time at iFly. You'll check in at one of the kiosks and if you haven't already completed your pre-flight waiver, you'll need to do so. After you check in, you can proceed to the flight deck viewing area in order to get a glimpse at other flyers. A flight instructor will then find you and accompany you to a classroom for flight training instruction.
After instructions, you will then head to the "gear-up" counter to receive your helmet, flight suit, and goggles. You'll then be lead to the flight chamber where the instructor will stay with you during your flight to ensure your safety. Pictures and videos of your flight will be available for purchase after you have exited the flight chamber.
You might also like: Get Swinging at Topgolf Roseville
After Your Flight
While we can't match the thrill of indoor skydiving,
Roseville Volkswagen
does have an exciting lineup of new Volkswagen models to choose from at low prices and monthly payments. Stop by our dealership located at 830 Automall Drive Roseville, CA 95661.